Twin Spin
From GoBots Wiki
Jump to navigation
Jump to search
Twin Spin is a Renegade.
Fiction
[
edit
]
Challenge of the GoBots cartoon

[

edit

]
The Third Column Renegade Carnival
Twin Spin and Stallion were seen patrolling in the detention facility onboard Roguestar. GoBots: Battle of the Rock Lords
Fun Publications
[
edit
]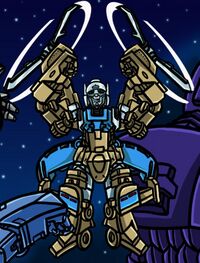 Transformers Timelines

[

edit

]
During the Diaspora, Twin Spin was apparently dispatched to Level 69 along with an assortment of Guardians and Renegades. Cultural Appropriation

The roster for Level 69 actually mentions "Tailspin", but no such GoBot exists, so presumably this was a misspelling of "Twin Spin".
Renegade Rhetoric
[
edit
]
When the Renegades discovered a mystical gemstone was in the possession of a wealthy theatre enthusiast, they performed a showing of "The Pirates of Penzance" for his pleasure. Twin Spin had a serviceable role as the Police Sergeant. The Show Must Go On
Cy-Kill created an alternate universe by removing Luther Unum from the past before he could become Leader-1 of the Guardians. Twin Spin was one of the Renegades in this reality who was charged with guarding the Time Portal used in Cy-Kill's scheme, but a resistance force of humans and Guardians managed to get past him and set the timeline right. Renegade Victory Part 2
Twin Spin, Blades, and Pincher attacked a UNECOM facility on Mars, but were driven off by Doctor Braxis and his new invention, the Destabilizer Cannon. Once Braxis Twice Shy Part 1
While marooned on Axiom Nexus, Cy-Kill recalled for his audience Twin Spin's role in Zero's mutiny. Renegade Rhetoric 2015/10/15 He also cited Twin Spin as a good example of GoBot diversity when it came to alternate modes, especially compared to Transformers. Renegade Rhetoric 2015/10/14
"Echoes and Fragments"
[
edit
]
For their own amusement, Sideways and Gong played with reality so that elements of a Gargent stream blended in and out of a Primax stream. In this amalgamated universe, Twin Spin was a Renegade who attacked a Command Center on its way to Autobot City on Earth. He dodged an acid pellet launched by Prowl and fired back, eliminating the Autobot soldier. Echoes and Fragments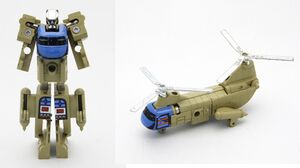 Twin Spin (GoBots, 1985)

Enemy Robot Helicopter
ID Number: 42
Accessories: Rotor (2)
A tan repaint of the Machine Robo Vertol Robo toy with blue highlights, GoBots Twin Spin converts from robot to Boeing CH-46 Sea Knight tandem rotor helicopter.
Renegade Gift Pack #1 (GoBots Gift Pack, 1985)
Machine Men

[

edit

]
Twin Spin (Machine Men, 1984)

Enemy Robot
ID Number: 24
Accessories: Rotor (2)
The sixth toy from the fourth wave of figures, Twin Spin was released by Bandai Australia in 1984. While initially a repackage of the green Battle Copter Man on a new black backing card depicting a blue-tinted alien landscape, a running change in 1985 saw the figure replaced with its tan and blue variant.