Bandai
From GoBots Wiki
Jump to navigation
Jump to search

Bandai is a Japanese toy company, mainly known for their long history of producing successful action figures. It is considered one of the biggest toy companies in the world, along with Hasbro and Mattel, and currently own Machine Robo and thus the majority of the toys released as GoBots by Tonka in the 1980s.
History
[
edit
]
Bandai were formed in 1947 but had to wait until 1963 for a big hit, when it produced figures based on the anime Astro Boy, later having another success with toys based on Ultraman. They also entered a joint venture with American manufacturer Tonka in 1970. The following year they span off Popy as a separate company with the primary objective of exploring licenced toys from television shows.
Machine Robo

[

edit

]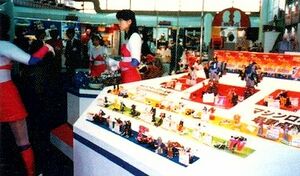 In March 1983, Popy were reabsorbed into Bandai, with most of their series continuing - especially the successful Machine Robo figures. They continued to release "600 Series" and Scale Robo DX figures, also reissuing most of the Popy figures in updated packaging. The range continued to sell well and Bandai would add further subsets alongside the established ranges, including the Machine Puzzler, Devil Invaders, playsets and more. In 1986 they revived the line with its' first franchise backed by an anime series, Machine Robo: Revenge of Cronos and a sequel, Machine Robo: Battle Hackers, the following year before the line went dormant. In 1993 it was briefly revived for the toy-only PLEX-designed CG Robo series then ten years later found new generation of fans with the anime-supported Machine Robo Rescue. Since the end of 2003 Bandai have switched the line's focus to the action figure/puzzle/construction hybrid Machine Robo Mugenbine.
Overseas
[
edit
]
When Bandai took Machine Robo back under their auspices they began to explore international distribution, something that had been beyond Popy's means. Bandai's international subsidiaries set up three lines to market the Machine Robo series - Machine Men in North America, Robo Machine in Europe and Machine Men in Australia. While the European and Australian lines went down well, Bandai's American wing was a young operation and struggled to promote and distribute the toys. Instead they signed a licensing agreement with Tonka, who repackaged the figures as GoBots.
Franchises
[
edit
]
North America
[
edit
]
Australia
[
edit
]
Other toylines
[
edit
]
Bandai also produced toys for numerous other lines, many of which got drawn into the web of Machine Robo. These included the Chogokin series (also taken over from Popy in 1983), Winch Robo and WalkingRobo.