Machine Men (franchise)
From GoBots Wiki
Jump to navigation
Jump to search
Machine Men was a toyline and media franchise created by Bandai, which ran from 1983 to 1987 in Australia. The the line initially consisted largely of figures from Bandai's Japanese Machine Robo series.
"
"Mighty Machine Men, Mighty Vehicles!"
"

—Commercial jingle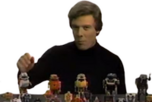 Each sold separately
---
This toy article is a stub.

You can help GoBots Wiki by expanding it.
Toyline
[
edit
]
The Machine Men line evolved considerably over its life. After starting out as a straight import of Machine Robo the brand changed direction when Challenge of the GoBots began airing in the country, leading to a shift towards Tonka-based names; initial names had instead followed a formula of "(designation) Man" similar to the American Robot Machine Men line, e.g. Loco/Steam Robo was released as Train Man. The good guys were the Friendly Machine Men and the bad guys the Enemy Machine Men. The line received a small number of exclusives, including a Staks Transport set that included unique recolours of BuggyMan, Turbo and Hans-Cuff, and a recolour of the Battle Base playset. It was also the only market where Snoop came out featuring her GoBots name.
As in Europe, the Rock Lords line was released under the Machine Men imprint as well.

Cartoons
[
edit
]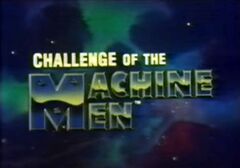 While Challenge of the GoBots was shown in Australia largely unedited the strength of the Machine Men brand was such that the series was retitled Challenge of the Machine Men, with a new title card and the commercial jingle that didn't quite scan properly used as a theme tune. The name change was also carried over to the feature film, released (well, just about) in Australia as Machine Men: Battle of the Rock Lords.

Bandai commissioned a series of four freebie comics that were given away by toy retailers featuring short and sometimes crazy strips telling their own story of the Machine Men, with some elements grabbed from the GoBots mythos, some from Machine Robo and some made up on the spot. There were also lots of pictures of new Machine Men toys included as well.