Machine Robo (franchise)
From GoBots Wiki
Jump to navigation
Jump to search
The Machine Robo (マシンロボ Mashin Robo) franchise was the first iteration of Machine Robo, running from 1982 to 1986, when it was relaunched as Revenge of Cronos.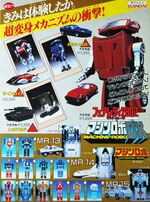 The toyline was originally initiated in April 1982 by Popy as the Machine Robo Series and continued when Bandai absorbed the company in 1983. The line soon expanded to include a range of sets designed for interaction with the smaller figures (informally known as the 600 Series due to their retail price of ¥600), including Jet Garry, Combat Buggy, the Battle Suits and the Battle Base playset. The range also branched into larger figures, such as the combining Machine Puzzler, the ScaleRobo DX and Big Machine Robo series, and twists on conversion such as the Double Machine Robo and the Martial Arts Robo.

The fiction was disseminated in four main ways - a storyline told intermittently through text in toy catalogues; stop-motion and animated segments on toy commercials; manga strips and story pages in TV Land, a popular children's magazine; and the manga-style strips used on the instructions of the 1983 toys.