Machine Robo: Revenge of Cronos (Action Toys)
From GoBots Wiki
Jump to navigation
Jump to search

Machine Robo: Revenge of Cronos is a line of low-volume collector-orientated Machine Robo figures produced by Action Toys since 2016. The toys are all based on characters featured in the Machine Robo: Revenge of Cronos cartoon series, and licensed from Ashi Productions (formerly Production Reed). Composed of metal and diecast parts, most of the range stand about 5" tall in robot mode. Each comes with a display stand.
Due to the narrower margins niche manufacturers run on releases have been irregular. Contrary to popular belief they are not 3rd Party figures, though Action Toys use a similar business model - just with the crucial difference of not stealing intellectual property. The toys do cost a bomb, though.
Machine Robo: Revenge of Cronos

[

edit

|

edit source

]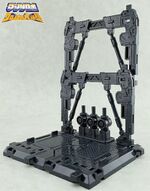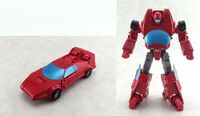 Each of the standard figures includes an identical black plastic stand that can be configured to show off the toys in either mode, and connect together if desired.
An updated version of Supercar Robo has featured since the range was first announced in 2015, with a hardcopy prototype among the first shown when the line was launched and stock pictures of a coloured version being distributed a year later. However, it has yet to be released in the range.
After the initial barrage of images and round of toy shows, Action Toys' promotion of the line has been spasmodic, with irregular gaps between releases - usually to the point where some question if it is even a going concern anymore - generally followed by figures showing up with stockists after little fanfare.
If you even think about calling these Masterpiece GoBots Hasbro lawyers will put bricks through your windows.