Ashi Productions
From GoBots Wiki
Jump to navigation
Jump to search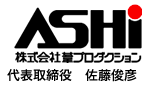 Ashi Productions (葦プロダクション) is a Japanese animation studio and production company founded in 1975 by Toshihiko Sato and other artists. From 2007 to 2019 it was known as Production Reed (株式会社プロダクション リード) before reverting to the Ashi Productions name. Its' formative years were spent co-producing shows such as Space Warrior Baldios before creating their first solo series, GoShogun, in 1983.
Machine Robo

[

edit

]
In 1985 they worked with Bandai to produce Dancouga – Super Beast Machine God and the following year received the commission to produce the first anime based on the Machine Robo franchise, Machine Robo: Revenge of Cronos. After producing 47 episodes they continued with the series' sequel Machine Robo: Battle Hackers, which ran for 31 episodes. They then continued the story of Leina Stol and other characters originated in the Revenge of Cronos series in a series of four OVAs from 1988 to 1990.
TV Series
[
edit
]
Their redesign work on the Machine Robo toys for the animated series seems to have given Ashi some copyright claim to the characters, as Action Toys' figures based on the Revenge of Cronos series bear licencing information crediting Production Reed.