Psychoroid
From GoBots Wiki
Jump to navigation
Jump to search
Psychoroid is a toy from the Machine Robo Machine Robo DX series of figures.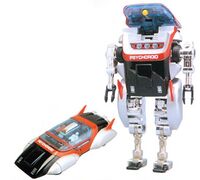 ID Number: MR-DX01
Accessories: missiles (4)
The first figure in the Machine Robo DX range (and the only one issued by Popy before Machine Robo became a Bandai line) Psychoroid converts from fictional 'Psychoroid' futuristic car to robot. The Psychoroid features die-cast metal parts and rubber tyres, and a working spring-loaded missile launcher in robot mode. Unlike the other Scale Robo figures, the Psychoroid's alternate mode is of fanciful origins, being based on a vehicle from the 1980s anime series Space Adventure Cobra. Tiny figurines of Cobra and his partner, Lady Armaroid, are actually visible inside the Psychoroid's cockpit. Both the original vehicle and the toy were designed by Katsushi Murakami. Loose samples of the Psychoroid often have damage to the chrome and red trim around the cockpit, and the two red fins on the rear part of the car are quite fragile.
Code: RMDX-01
Accessories: missiles
Space Adventure Cobra had enough of a following in France that the figure had actually been released in mainland Europe before Robo Machine even started. It was then issued as part of Robo Machine. The European release of Psychoroid used the same modified sticker as the GoBots version with all mentions of 'Psychoroid' changed to read 'Future Machine'. However, unlike the American release it retained the working missile launcher. Unlike other Machine Robo DX figures, the toy was not reissued as one of the later figures.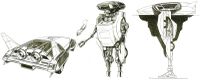 The individual Machine Robo DX figures lacked the "Robo" suffix of other Machine Robo figures and did not feature in any of the line's fiction. This combined with their more adult-orientated packaging suggests they were intended simply as Machine Robo puzzle toys or models as opposed to part of the early Romulos/Devil Invader mythos.
Despite getting its' own toy the Psychoroid only appeared in a single episode of the Space Adventure Cobra show.