Fairlady Robo
From GoBots Wiki
Jump to navigation
Jump to search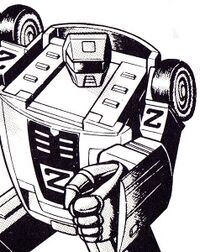 Fairlady Robo (フェアレディロボ) is a Machine Robo from Romulos.
He stands at 4.33m, weights 13.25 tons and is armed with an Ionoid Laser Cutter, a Sonic Roller and a M70 Pod Rocket. In car mode he can reach speeds of 470kmph.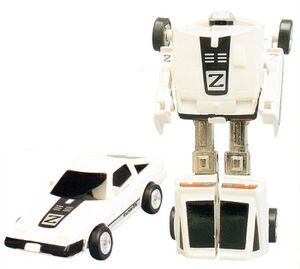 Fairlady Robo (1985)

ID number: MR-48
Accessories: none
Fairlady Robo was the 48th figure in Bandai's Machine Robo Series and transforms from robot to Nissan 300ZX Fairlady Z sports car in 7 steps. Being made from mainly white plastic, the toy is highly susceptible to yellowing. The toy features more plastic than many in the range, with only the inner chest and thigh sections being diecast, though he retains rubber tyres. Fairlady Robo has some articulation at the shoulder and knee, though the latter looks a bit unnatural. Like the rest of the range, the figure retailed at ¥600.

From 1986 onwards Fairlady Robo was repackaged on a blister card. The figure itself was unchanged.
The figure was later recoloured as the GoBots/Robo Machine figure Major Mo, with a primarily red colour scheme.