Warner Brothers
From GoBots Wiki
Jump to navigation
Jump to search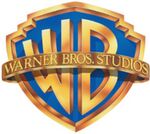 Warner Brothers, or less colloquially, Warner Bros. Entertainment Inc., are an American media conglomerate. On the back of devising numerous films and cartoons of their own (including Bugs Bunny, Daffy Duck and Road Runner) their financial success has allowed the company to complete numerous buy-outs of other media companies, giving them a formidable media library. Hanna-Barbera are among the bigger names to be acquired, in 1991, meaning Warner Brothers are current owners of Challenge of the GoBots.
Other companies to have been taken over by Warner Brothers include Telepictures in 1989 (with Karl-Lorimar Home Video absorbed a year earlier). As such, the Warner archive of films and television is one of the largest in the world. While it contains numerous famous films and TV shows, it also includes some relative obscurities, which are the focus of the manufacture-to-demand Warner Archive Collection DVD imprint.
While Warner Brothers own the rights and materials of Challenge of the GoBots, the series contains numerous trademarks owned by Hasbro since their acquisition of Tonka, also in 1991. Thus any repeat or home media release of the series requires Hasbro and Warner Brothers to co-operate; this happened in 2011, allowing the series to be released on DVD as part of the Warner Archive Collection, with Hasbro credited as owners of GoBots in the packaging indicia.
However, Warner Brothers do not appear to own the feature film GoBots: Battle of the Rock Lords, which, while animated by Hanna-Barbera, was produced/distributed by Clubhouse Pictures. Through a similar pattern of acquisitions and takeovers, the Clubhouse library seems to be owned by MGM, a direct rival of Warner Brothers (and who own MGM's pre-1986 library via Turner Entertainment). Any re-release of the film would likely require Warner Brothers, MGM and Hasbro to co-operate, which isn't impossible but perhaps would be a lot of work for a single niche film; it has currently been 8 years since the DVD release of the series with no sign of the film. Don't hold your breath, basically.