Fossil Lords
From GoBots Wiki
Jump to navigation
Jump to search
The Fossil Lords are a Rock Lord team from Quartex. The team is made up of Jaw Bone, Rib Cage, Hip Bone and Tail Bone, who can combine to form Fossilsaurus. They fight on the side of the Good Rock Lords and live in the Kingdom of Fossils.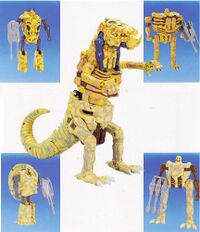 Fossilsaurus (Rock Lords, 1986)

Fossil Lord Combiner
Accessories: Jaw Bone's gun, Rib Cage's gun, Hip Bone's gun, Tail Bone's gun
Fossilsaurus would have been released as a giftset in the Rock Lords line by Tonka, consisting of Jaw Bone, Rib Cage, Hip Bone and Tail Bone, who could combine to form a huge skeletal dinosaur-type monster. Fossilsaurus would have required no additional parts to combine.

*Not available in stores
---
This item has been canceled, with no current plans for release.
The only Fossil Lord seen clearly in GoBots: Battle of the Rock Lords is Jaw Bone, who is named simply as "The Fossil Lord" and implied to be the lone survivor of his people. Due to the Fossil Lords toys being cancelled no further information is known about the group.