Lightning L808
From GoBots Wiki
Jump to navigation
Jump to search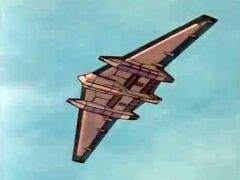 The Lightning L808 is a huge passenger aircraft. It can carry four huge 'blocks' of cargo and a large number of passengers in considerable comfort. It has been designed with anti-terrorism in mind, with many safety spaces and multiple bulkheads.
Fiction
[
edit
]
Lightning Trap: Leina and Laika OVA

[

edit

]
A Tokyo to Paris L808 flight crewed by pilot Kotani and co-pilot Tamura was selected for secret transportation of BIBLE Block military technology, with ICPO agent Laika Strange undercover as an air hostess. Despite the secrecy agents of the terrorist organisation Blue May were able to infiltrate the plane. Their leader Zarik killed Tamura and forced Kotani to pilot the plane towards the Communist Bloc, where he had a buyer for BIBLE Block. While the plane's bulkheads kept most of the passengers safe they did little to stop Blue May. However, passengers Leina Haruka and Ryo had been able to escape and moved through the cargo bay towards the secondary cockpit, but Zarik spotted them. Meanwhile Laika was able to shoot two of the terrorists and move down in time to save them. After Zarik murdered his lieutenant Luna, Leina was able to activate the Lightning's cargo controls and jettison the block containing the terrorist and BIBLE Block into the water near the Arctic circle. Kotani was then able to retake control of his plane.Lightning Trap: Leina and Laika
The plane would take about five hours to fly from Japan to Paris, which is twice as fast as a real airliner.