1987 Tonka Catalog
From GoBots Wiki
Jump to navigation
Jump to search
1987 Catalog
Publisher
Tonka
First published
1986
Page count
88
The 1987 Catalog for Tonka Toys, sometimes known as Tonka - Where Innovation is Child's Play from the blurb on the cover, was a dealer catalogue produced by the company in 1985. It was not intended for public consumption, but as promotion for the company's toys to retailers and the like. As such it contains considerable interesting information on the Rock Lords toyline if you're into geeky stuff like that. And if you've made it this far you probably are.
Sadly GoBots was no longer featured, having been cancelled before the end of 1986. Rock Lords wouldn't be far behind; its' second and last year saw just six pages handed over to the line, and those buried about midway through. The rest of the catalogue is devoted to Tonka's other lines, including Trucks, Pound Puppies and a slew of derivative nonsense, including poor man's Visionaries line Super Naturals, Sylvanian Families-baiting twee-fest Maple Town, syrupy My Little Pony-a-like Keypers and boy dolls Spiral Zone.
Rock Lords

[

edit

]
Pages 37-38 - Heroes and Enemies
[
edit
]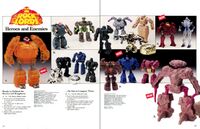 Boringly composed of released toys, and still using "Rockworld" instead of Quartex.

Pages 39-40 - Specialty Rocks
[
edit
]
What an odd title. Still, that's more like it - Fossilsaurus would famously be cancelled, while the Shock Rocks would undergo colour changes. In Blast Rock's case presumably to make him look less like Optimus Prime.

Pages 41-42 - Narlies and Vehicles
[
edit
]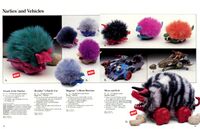 While there was a 1988 Tonka catalogue it features no GoBots or Rock Lords and thus should be shunned by humanity.