Worldvision
From GoBots Wiki
Jump to navigation
Jump to search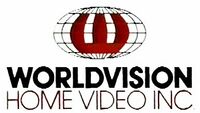 Worldvision Enterprises, Inc. was an American television syndication and home video company, founded in 1954 as ABC Film Syndication; after the FCC's "fin-syn" rules took effect in 1971 (meaning the Big 3 networks could no longer distribute programming themselves), ABC Films was spun off to five former executives in 1973, and the company was renamed Worldvision. However, this led them into a conflict with World Vision International, a charitable organization, who sued them over trademark infringement; this resulted in a bulky legal disclaimer being added to the Worldvision logo in 1974 ("Not Affiliated with World Vision International, a Religious and Charitable Organization.")
Over the years, Worldvision's output expanded from just former ABC Films product (like the 1970s syndicated run of Let's Make A Deal), to a variety of first-run and rerun product; following the company's purchase by Ohio-based Taft Broadcasting in 1979, it assumed distribution rights to the famous Hanna-Barbera cartoon library; when the company began to expand into first-run syndicated programming in the 1980s it also distributed most of this output...excepting Challenge of the GoBots, which was instead distributed by LBS Communications. In 1981, it formed a video division, Worldvision Home Video, through which releases of Hanna-Barbera material were issued until around 1986, when the Hanna-Barbera Home Video label was created (though distribution continued through Worldvision for some time after); just like how Worldvision was excluded from TV distribution, Worldvision Home Video did not have the rights to Challenge of the GoBots on home video, with Children's Video Library and Kideo Video instead handling home media releases.
Ultimately, after Taft was purchased in a hostile takeover and became Great American Broadcasting, it sold Worldvision to legendary TV producer Aaron Spelling in 1988 (Worldvision kept the rights to H-B material until several years later when Turner Program Services assumed the distribution rights); a series of successive mergers and deals throughout the 1990s involving Republic Pictures, Blockbuster Video and Viacom resulted in Worldvision's absorption into what was then Paramount Domestic Television in 1999. The present-day Paramount Global retains much of the Worldvision/Spelling/Republic backlog, as well as other properties Worldvision had licensed (including TV rights to the Carolco Pictures library).
Despite their exclusion from the GoBots property in the US, Worldvision did wind up releasing Challenge of the Machine Men on home video in Australia though their Rainbow Children's Video label.