Royal-T
From GoBots Wiki
Jump to navigation
Jump to search
Royal-T served as a guard on the planet Elba.
Fiction
[
edit
]
Challenge of the GoBots cartoon

[

edit

]
Flight to Earth Escape from Elba
Fun Publications
[
edit
]
Transformers Timelines

[

edit

]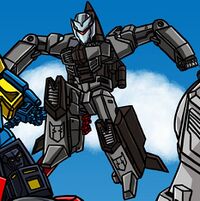 During the Diaspora, Royal-T was dispatched to Level 59 along with an assortment of Guardians and evil Rock Lords. Cultural Appropriation

Renegade Rhetoric
[
edit
]
From Axiom Nexus, Cy-Kill recalled the time he mesmerized Royal-T and Street Heat into helping him escape from Elba. Cy-Kill cited it as an example of why mind-controlled soldiers were a poor substitute for willing converts. Renegade Rhetoric 2015/11/24
Using the Power Suits, Royal-T, Treds, Road Ranger, and Dozer formed Courageous in order to deter Cy-Kill's monstrous new combiner named...Monsterous. One Born Every Minute
"Brain Problem Situation"
[
edit
]
When the Autobot Spy Changers first arrived on Strata 22, Turbo mistakenly assumed they were Renegades. Royal-T was one of the Guardians he assembled to attack and capture the Spy Changers. Brain Problem Situation
"Echoes and Fragments"
[
edit
]
As Sideways and Gong manipulated quantum strings to tie together two universal streams, the Decepticons staged an all-out assault on Guardian City on Earth. In defense of the base, Royal-T was destroyed fighting Starscream alongside Spy-Eye and Ace. Echoes and Fragments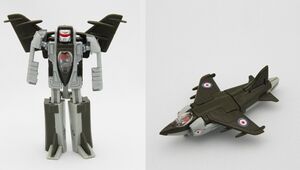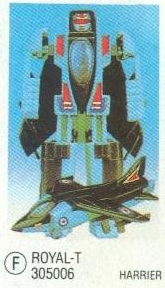 Royal-T (GoBot, 1983)

Friendly Robot British Jet
ID number: 19
A repackaged import of the Machine Robo Harrier Robo toy, Royal-T converts from robot to Harrier jet.
Machine Men

[

edit

]
Harrier Man (Machine Men, 1983/1984)

Friendly Robot (1984)
ID Number: 15
The third toy from the third wave of figures, Harrier Man was released by Bandai Australia in 1983. He remained identical to the original Harrier Robo toy, albeit packaged on a blue backing card.
In 1984, the figure was re-released with his GoBots name and faction on a new black backing card depicting a yellow-tinted alien landscape.
Robo Machine

[

edit

]
Harrier (Robo Machine, 1984)
A carded repackage of Harrier Robo, the figure now known simply as Harrier was released by Bandai Europe in 1984. While he was never reissued, catalogs and packaging from 1985 onward listed the toy under his GoBots name.
Merchandise
[
edit
]
Convertible Model Kit
[
edit
]
Produced by Monogram, this model kit featured a pull-back motor in jet mode. Royal-T's robot mode and conversion pattern were heavily altered for this kit, with the resulting kit looking very little like him.