Wrestler Robo
From GoBots Wiki
Jump to navigation
Jump to search
Wrestler Robo (レスラーロボ) is a Machine Robo.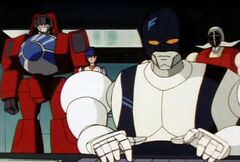 Machine Robo: Revenge of Cronos cartoon

[

edit

|

edit source

]
Wrestler Robo was stationed at Emerald City on Cronos and part of the discussion when Rom Stol decided to raise a convoy to fetch Metal Laster from Vira after his sister Leina and some of the city's children were infected with a rust gas missile fired by the Gyandlar. Knight of the Devil's Mountain, Mask Rock He later helped search for Leina, Rod Drill, Tough Trailer and Pro Truck Racer after they became stuck behind Gyandlar lines. Fire! Big Blazer Cannon! Wrestler Robo later designed the Power Riser suits onboard the Battle Base, training Rom and Leina in their use. He joined them in the assault on the Gyandlar mother-ship but was injured by Garudi Power Riser, Break Through the Enemy! and subsequently possessed by the disembodied Grujios. His body was used to steal the Phoenix Armor and Wolf Sword. Baikanfu - Cry of Anger! He recovered enough to join in the celebrations when Cronos was finally freed from the threat of the Gylandar after Gadess' defeat. The Final Battle of Cronos

Machine Robo: Battle Hackers cartoon

[

edit

|

edit source

]
After the Machine Robo left Cronos and passed a dimensional gateway they re-emerged as the citizens of the Algo Republic on Electronic Planet B-1 with no memory of their previous adventures; Wrestler Robo became a member of the Red Knights team in the Algo Army. He mustered as part of a co-ordinated Algo Army assault on the Gurendos. Quickly, Gattai Saurer!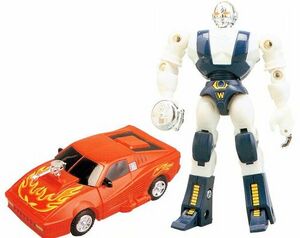 Wrestler Robo (1986)

ID number: KR-03
Accessories: gun, barbell
Machine Robo: Revenge of Cronos

[

edit

|

edit source

]
Wrestler Robo (1986)

ID number: MRC-3
Accessories: gun, barbell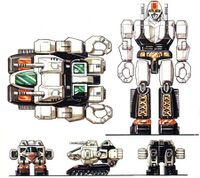 Wrestler Robo was not seen to transform in any of his animated appearances.
Like the other Martial Arts Robo figures, Wrestler Robo was initially conceived as a conventionally-transforming figure before the decision was made to totally rework the toys into poseable figures with shells. This version even seems to have got as far as a physical prototype before the change was made. At this stage his alternate mode was a futuristic tank.