Water Pistol
From GoBots Wiki
Jump to navigation
Jump to search
The Water Pistol was a toy released under the GoBots brand.
For the Renegade Rhetoric prose stories the character was renamed Squirt and became one of the RoGuns.
Merchandise
[
edit
]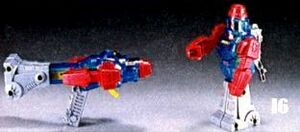 Released by ARCO, this toy transforms from a water pistol to a robot. It had previously been released by Arco as the Ro-Gun Water Pistol; the GoBots version had no significant changes beyond the addition of a GoBots sticker on the chest. The main body was moulded in translucent plastic so the user could monitor how full it was of water. Water Pistol has movement at the shoulders. Like most of ARCO's releases the toy was heavily reliant on stickers for detail, notably for the face. The winning combination of stickers and water means these are often missing from used examples.

Soon after the GoBots release the figure was recoloured in red and grey before being issued with Robotech branding. In 1992, after ARCO had been taken over by Mattel the toy was recoloured as the RoGun Blastar.