Unknown GyroBot
From GoBots Wiki
Jump to navigation
Jump to search
The "Unknown GyroBot" is a Guardian. Or would have been. Heck, he didn't even get a name of his own.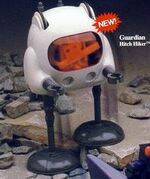 ???? (GyroBot, 1985/1986)

Guardian Robot
Accessories: none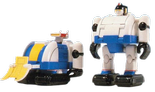 *Not available in stores
---
He (or she...) was named in the 1986 Tonka catalogue as Hitch Hiker, with the figure that would actually be released as Hitch Hiker named as Quick Step, the name that would be used for the Renegade Power Marcher which wasn't pictured. As such it is currently unknown what the Unknown GyroBot would have been called, and it might not even have received a new name before the assortment was cancelled.