Bio Dragon
From GoBots Wiki
Jump to navigation
Jump to search
Bio Dragon is a peaceful GoBot from the planet Godaikin and/or a menacing invader from outer space. It's probably a perspective thing.
Robo Machine featuring Challenge of the GoBots annuals

[

edit

|

edit source

]
Travelling from GoBotron to Earth with Professor Von Joy's new Battle Suit system, Spay-C, Scooter and Matt encountered Biodragon with Daidenjin and Vavilos from the planet Godaikin. They warned the pair of Guardians of Renegade activity in nearby space lanes before moving on, which meant Spay-C, Scooter and Matt were well prepared when the Renegades did attack. The Professor's New Baby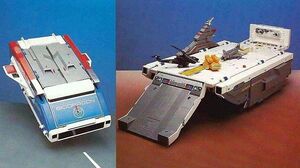 Bio Dragon (Transporter, 1985)
Bio Dragon was released in Europe by Bandai in 1985 as part of Robo Machine, and transforms from "Friendly" carrier to invading spaceship. The toy was originally the Bio Dragon DX. The back-of-box photography flags up that it's a perfect size for Bio Robo - unsurprisingly, as it was designed to work together in Japan. The 1987 Robo Machine catalogue stated the toy was not available in Great Britain, but the packaging still included English text - and the toy was listed in the Argos catalogue.

In North America, Bio Dragon was released as part of the GoDaiKin line.
Bio Dragon got a Robo Machine release thanks to Bandai's decision to ship unsold overstock from their American GoDaiKin super-robot line over to Europe, where some toys were given new Robo Machine branded boxes. Bio Dragon is notable as some sort of effort beyond changing the logo has been made, including an original photograph on the front of the box and some attempt to tie into the line's early "Robo Machines versus Enemy Invaders" mythos.
A list of names was then likely passed to some hapless World Distributors staffer, who was then asked to reference some of them in the annual, resulting in Bio Dragon getting into a GoBots story. It was probably meant to be Bio Robo but hey, it wouldn't be GoBots without gigantic confusing mistakes.
Like Tough Trailer, Pro Truck Racer, the Varigale-X, Daidenjin and Bio Robo, Bio Dragon originates from the long-running Super Sentai franchise, specifically the Bio Dragon ship from the 1984 instalment Choudenshi Bioman; during 1985 the series was being shown in France as Bioman, with a theme song recorded by the ubiquitous Bernard Minet. The toy was created by Bandai for their Popynica line.