Transformers
From GoBots Wiki
Jump to navigation
Jump to search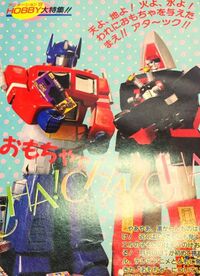 Transformers is a multimedia franchise that has been running in many forms since 1984 by Hasbro and TakaraTomy.
It has traditionally been considered the rival of GoBots, leading to much lazy fodder for geek culture blogs. Given Transformers has been running more or less interrupted for 39 years, spawned thousands of figures and hundreds of television episodes, inspired a billion-dollar movie franchise and myriad comic books, and Hasbro even literally took over Tonka—and thus GoBots—in 1991, it might look like they won that particular competition...but at least GoBots never created Kiss Players.
Similarities between GoBots and Transformers

[

edit

]
GoBots was basically Tonka's attempt to gazump Transformers, and as a result of that and the overlap between the competing Japanese lines they licensed, together with both being devised at around the same time for the same market, there are a large number of areas where they tread on each other's toes.
Both featured two factions of alien robots—one heroic, one evil—in the middle of a civil war coming to Earth.
Both had huge metal planets.
Both saw the good guys make friends with humans, who ended up on the front lines of the battles despite the gigantic danger involved.
Due to Takara and Bandai fishing in the same pond of "vehicles that would appeal to Japanese kids", there are some very similar shared vehicle modes, all released within the same few years:

A-10 Thunderbolt II: Bad Boy / Powerglide
Datsun Fairlady Z: Zeemon / Bluestreak, Prowl et al.
F-4 Phantom: Mach-3 / Fireflight
F-15 Eagle: Leader-1 / Starscream, Skywarp, Thundercracker et al.
F-16 Falcon: Heat Seeker / Skydive.
Harley Davidson Electra Glide: Night Ranger / Groove
Lamborghini Countach: Spoiler, Pocket / Sideswipe, Sunstreaker et al.
Porsche 928: Herr Fiend / Dead End.
Space Shuttle: Spay-C / Astrotrain and Blast-Off.
Additionally, there are numerous "near-misses" along similar themes—police cars, fire engines, ambulances, construction vehicles, F1 racers, trucks, tanks and so on. It doesn't seem like either party was actively ripping the other off; rather, there was just a certain band of vehicles that were considered suitable for boys' toys, and as neither bothered with licensing at the time, there was no demarcation.

Similarly some names were used by both franchises—Blaster, Rumble and Warpath. Again, this is likely down to simple parallel thought processes.
Both had an American-produced cartoon that ran for 65 episodes, followed by a 1986 movie that completely tanked.
Both productions shared some staff, though as they were made by competing studios with their own "favoured" talent, it was perhaps less than you'd think.

Only the legendary Frank Welker was a regular cast member in both Challenge of the GoBots (as Scooter, among others) and The Transformers (as Megatron, among others). However, Arthur Burghardt, Peter Cullen, Paul Eiding, Dick Gautier, Jack Angel, Michael Bell, Philip L. Clarke, Alan Oppenheimer and Peter Renaday also provided voices for both shows.
Behind the scenes Doug Booth, Antoni Zalewski, Don Glut, Carla Conway, Michael Hill, Reed Robbins and Peter Salas all wrote for both shows, at least when Jeff Segal and Kelly Ward let them.

Both shows made huge early impressions on many audiences, and each is still considered by many to be the ambassador for its respective franchise, regardless of qualification.
They were also both produced under similar market forces, meaning regular introductions of new toys being awesome, sometimes simple plots revolving around moral lessons along the lines of "trust your friends" and "don't be a dick", copious plot devices, little advancement in characterization in order to allow out of sequence broadcasting, low consequences, and so forth.
Some plot lines and devices that were familiar to cartoons of the period appeared in both, albeit usually handled differently:
Both shows also had numerous plot and animation errors due to the speed at which they were produced, though the continuity of Challenge of the GoBots makes The Transformers look like A Song of Fire and Ice.
Both went into a bit of a dip in 1986, thanks in part to the aforementioned box-office bombs.
Differences between GoBots and Transformers

[

edit

]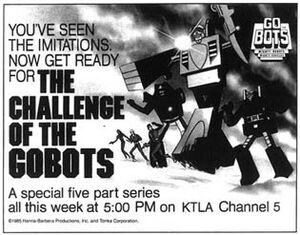 Whereas the Transformers are presented as sentient robots, GoBots are cyborgs with organic brains inside otherwise robotic bodies.
GoBots didn't seem to think female characters were a big deal; while vastly outnumbered, no less than six female GoBots appeared in Challenge of the GoBots and had toys, whereas it would take until the mid-1990s for Transformers to put one in a toyline. They didn't have to be pink and curvy either, and were defined by more than whichever male character they had a crush on.
GoBots toys contained a sizeable proportion of diecast metal throughout the line's life, though to be fair, it didn't last long after Transformers really moved away from the material.
GoBots had playsets, whereas Transformers only sold the characters themselves.
Whereas Hasbro and Marvel Productions had a very coordinated marketing strategy that included the toyline and cartoon as well as a comic and on-package bios, GoBots didn't. There was never a GoBots comic available on newsstands, while few of the toys came with biographical information.
Another striking difference is that GoBots was not an international brand. Instead, it only covered North America (the United States and Canada), with Bandai doing their own thing in Europe and Australia, markets where Hasbro would swiftly move to expand Transformers after its initial success. While other lines such as Robo Machine and Machine Men would later incorporate elements of GoBots, there was always some variance, and Machine Robo remained a separate entity.
There's also that whole "one had a dip in 1986 but now has 39 years of material" and "one had a dip in 1986 and completely disappeared" thing, if you're splitting hairs.
But again, no Kiss Players.
GoBots in Transformers

[

edit

]
Since Hasbro's takeover of Tonka in 1991, they have owned the trademarks for the GoBots franchise, though the rights for most of the toys belonged to Bandai. This has led to some grey area as to who owns exactly what, but Hasbro have put what they definitely do have—the various names—to use to prevent them being hijacked by someone else.
In 1993, a Transformers Generation 2 Color Changer was given the name Gobots.
In 1995, a subgroup of Transformers Generation 2 toys were named as the Go-Bots.
In 2002, a range of preschool toys from Hasbro's Playskool subsidiary used the name Transformers: Go-Bots.
In 2003, a Transformers Armada Mini-Con was named Leader-1.
In 2004, Takara partner e-HOBBY issued a set of six Minibot recolours named as the "G1 GoBots". While these were solicited as being named after six Tonka GoBots, the toys ultimately came out without names due to Takara having concerns over whether it would attract attention from Bandai's lawyers, even though the trademarks weren't owned by Bandai and the toys themselves had no resemblance to GoBot or Machine Robo characters. The whole episode was hilarious, which naturally led to it being taken very seriously by fanclub fiction.
In 2011, a segment of the Transformers: Dark of the Moon line were named as Go-Bots.
Other appearances in the Transformers franchise have included homages.
Another trend are bit-part or background appearances in the various Transformers comics since the property returned to print in 2001. Meanwhile the licencing opportunities were exploited by Fun Publications, who used the GoBots trademarks to produce text stories based on the franchise, culminating in the virtual continuation of the cartoon as part of Renegade Rhetoric.
Transformers in GoBots

[

edit

]
The concluding issue of Tom Scioli's IDW Go-Bots comic posited the human-created title robots as the actual creators of the Transformers; the bodies of Cy-Kill and Leader-1 were rebuilt as Starscream, while Road Ranger and Bug Bite planned to build heirs that were implied to be Optimus Prime and Bumblebee.