Tomcat Robo
From GoBots Wiki
Jump to navigation
Jump to search
Tomcat Robo (トムキャットロボ) is a Machine Robo from Romulos.
He is 19.1m tall. In jet mode he can travel at Mach 2.34 and is equipped with Ionoid Phoenix Missile AIM-CX weaponry.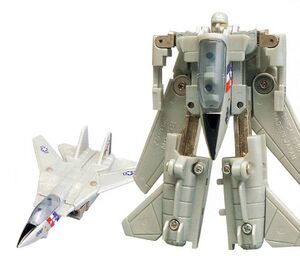 Tomcat Robo (Machine Robo Series, 1985)

ID number: MR-51
Accessories: none
Tomcat Robo was the 51st figure in Bandai's Machine Robo Series and transforms from robot to Grumman F-14 Tomcat with moving swing-wings and a retractable nose wheel in 7 steps. The robot mode has good articulation in the shoulders and unlike many Machine Robo Series figures uses metal-on-metal joints, which means Tomcat Robo rarely suffers from loose parts. Released late in the line's life, it is one of the rarer Machine Robo figures.

From 1986 onwards Tomcat Robo was repackaged on a blister card. The figure itself was unchanged.
The figure was later issued as the GoBots/Robo Machine figure Sky-Jack, with minor changes.