The GoBotron Saga
From GoBots Wiki
Jump to navigation
Jump to search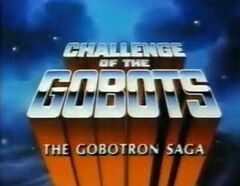 The Gobotron Saga is a five-episode storyline made for the Challenge of the GoBots cartoon. It had no overarching title when originally broadcast in the fall of 1985; when compiled into a "movie" for release on VHS in 1986, a unique title card was added that used the title of the first episode for the entire feature. While it was broadcast as the 41st to 45th episodes of the series the events take place directly after the first mini-series.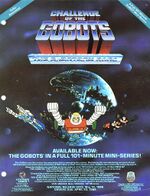 Due to featuring the majority of the toys from the first two series of figures and the aforementioned ability to be edited into a continuous "movie", The GoBotron Saga was ideally suited to home video and was one of the most widely-released cartoon storylines, with releases in the USA, UK, Germany, Sweden and Argentina.

Episodes
[
edit
]
Home video releases
[
edit
]
Challenge of the GoBots: The Gobotron Saga (VHS, 1986)
Released by Vestron Video in the United States and Europe and Lightning Video in Argentina, this release of the mini-series edited the five episodes together into a movie-length 101-minute feature, removing the individual episode cards and start/end titles.
Challenge of the GoBots — The Series, Volume Two (DVD, 2015)
Released as part of the Warner Archive Collection, this release featured the five episodes unedited.