Stonehead
From GoBots Wiki
Jump to navigation
Jump to search
Stonehead is a fortress on Quartex, and the seat of power for the Evil Rock Lord Magmar. Looming over the planet, it has a distinct skull shape that only adds to the general sense of foreboding.
Fiction
[
edit
]
Challenge of the GoBots cartoon

[

edit

]
Magmar build the Power Stone machine inside Stonehead, using it to gather the Power Scepters of vanquished Rock Lords. Stonehead also contained the fearsome Tumbler, used to dispose of Magmar's rivals once their purpose had been served. During the subsequent battle with the GoBots Stonehead was the site of a three-way battle between Magmar's forces, the treacherous Renegades and the combined forces of rival Rock Lord Boulder and the Guardians. Nuggit damaged Stonehead by blasting some of the support columns and the fortress later took the full blast of the Ultra Scepter. Despite Magmar's defeat he remained in control of Stonehead. Battle of the Rock Lords
Rock Lords

[

edit

]
Stonehead (Rock Lords, 1986)
Stonehead was a planned playset for the Rock Lords toyline, and was first advertised by Tonka in 1986 and likely designed by the American company. Rock Lord figures could either be loaded in a hatch in the back of the playset in rock mode or in the jaw in robot mode; hand turning the crank on the side then made Stonehead 'chew' the unfortunates - mimicking the Tumbler seen in the film. Sadly the set was not released before the Rock Lords line was cancelled in 1987.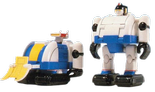 *Not available in stores
---
Robo Machine

[

edit

]
Rock Lords
[
edit
]
Stonehead Mountain (Rock Lords, 1986)
Bandai seem to have considered making their own Rock Lords playset, or at least the only known picture of the thing is from a European catalogue. It is of a completely difference design to the set shown above, much more like the Command Center or Thruster in that it has a 'transformation' that opens it up and something approaching a robot mode, albeit one with a slightly camp pose. As can be seen from the image, rock mode Rock Lords could be placed in nooks on the outside, and it included a working winch and a darling little weapons rack among the cute interior. It appears to have been made later in the day than the first version as the other toys featured in the image are all production versions. Sadly, it didn't come out either. God dammit, guys.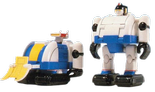 *Not available in stores
---