Silvermoon Mine
From GoBots Wiki
Jump to navigation
Jump to search
Silvermoon Mine is an abandoned mine.
Fiction
[
edit
]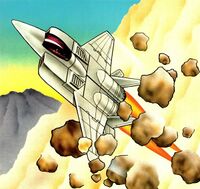 Robo Machine featuring Challenge of the GoBots annuals

[

edit

]
The Renegades used the $27m robbed by Noodles O'Rourke and Montgomery Mulligan to buy the abandoned Silver Moon mine for $16m and bought $11m of equipment, using Braxis as an intermediator, planning to use the space to build Zod. However, the Guardians linked Braxis' "Peabury" alias with the purchase, and Leader-1 checks it out with Matt, A.J. and Nick. They found the mine swarming with Renegades and went to get reinforcements; however, by the time the Guardians' Earth Force arrived the Renegades had abandoned the mine. The Secret of Silvermoon Mine Turbo and Hans-Cuff checked out the nearby area for clues, but instead Turbo and Nick were ambushed by the Enemy Invaders. The Monsters and Mister Grogan
$16m is a lot for an abandoned mine in the mid-1980s.