Sapper
From GoBots Wiki
Jump to navigation
Jump to search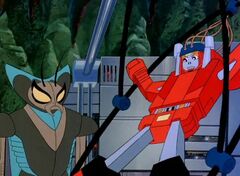 A Sapper is a piece of equipment used by the Insectoids to keep prisoners docile by draining their energy.
Challenge of the GoBots cartoon

[

edit

|

edit source

]
When Exor and the Insectoids arrived on Earth and abducted [[ Scooter from a UNECOM base, she was able to conjure up a lair full of equipment, including a sapper. Exor Scooter into the sapper to drain his energy levels.Invasion from the 21st Level, Part I Her troops later did the same with the captives Turbo, Cy-Kill, Crasher and Cop-Tur. The two Guardians were then freed by Doctor Braxis after his deal with the invaders went sour, with Cy-Kill also getting free in the resulting kerfuffle.Invasion from the 21st Level, Part II
None of the GoBots showed particular signs of being low on energy after being in the sappers, underlining their general pointlessness.