Saeko Homura
From GoBots Wiki
Jump to navigation
Jump to search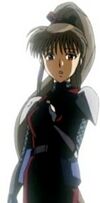 Saeko Homura (穂村 冴子) is a human from Japan. She is married to Yudai Hayami - President of Hayami Heavy Industries - but is a famous actor in her own right - notably as star of TV series Ninja Mama, in which she plays Kimura Yoko, and seems to have retained her maiden name as a result. Saeko is the mother of Machine Robo Rescue member Daichi Hayami.
Machine Robo Rescue cartoon

[

edit

|

edit source

]
Voice actor: Rio Natsuki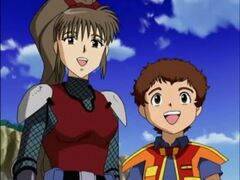 Saeko appears to have concurred with her husband over getting Daichi to join MRR in order to man him up Daichi's Resolution but secretly wished he would fail the entry exam to keep him safe. I am the Mother of Daichi Alice, Ken and Lin all adored Saeko and gossiped about her while watching an episode of Ninja Mama, little realising that their team-mate Daichi. The boy himself was having a crisis of confidence, regretting joining up and suffering from severe nerves. He attempted to tell his mother he was quitting during a phone call but she was too busy praising him to realise. He eventually found some confidence thanks to the help of Sayuri Suizenji and Drill Robo, opting to stay with MRR. It's Party Time! Drill Robo Saeko was away filming and unable to attend a subsequent MRR open day. And Taiyoh is Fine! When a film was made based upon Ninja Mama, directed by Hota and produced by Anao. Due to their reputation for dangerous stunts Yellow Gears were assigned to help provide safety. Saeko was delighted to see her son, though the other cadets were shocked at finding out she was Daichi's mother - though the instructors knew from having read his file. Except Musashi Miyajima, who didn't. She also made fast friends with Sayuri, sharing some pictures of Daichi as a baby. Saeko overcompensated somewhat for how little time she spent with Daichi by getting all four Yellow Gears members and a good 80% of the Drill Team involved in the film, though thanks to the insane stunts they largely found it to be tougher than rescue work. Things got even more dangerous when Colonel Hazard arrived, under the impression that Yoko was real and would join him in working for the Disasters. The Gura Gorro he brought with him caused much trouble, trapping crew member Umeda. Daichi swung into action, leaving Saeko shocked at the level of danger her son was facing working for MRR. However, on seeing the pleasure he got from his work and the strength of his team-mates she thanked them for looking after him, giving her blessing for his choice. Unfortunately the action had destroyed all the footage of the film shot. I am the Mother of Daichi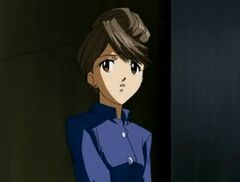 Presumably a portion of Saeko's brain was also destroyed as she seemed to agree with her husband's plan to trick Daichi into leaving MRR prematurely and taking up the Hayami Heavy Industries presidency by going along with him faking serious illness. That part of his scheme worked fine, with Daichi resigning and joining the family business. However, soon afterwards they discovered a trio of Gura Gorros stealing special treated metal from one of the company warehouses. A fire broke out, attended to by Yellow Gears. Daichi instantly snapped back into shape and helped the team bring the situation under control. Saeko survived with minor smoke inhalation and afterwards told him that his father had been faking the illness as both parents approved of him rejoining MRR. Daichi's Resolution Along with Yudai, she attended the MRR graduation ceremony. Fly, MRR!

During their discussion in "It's Party Time! Drill Robo" Alice and Lin mention that Saeko has three children, but Daichi is an only child. It could be that they or whatever they read it in is just wrong, though.
In a series of surprisingly strong continuity that appears to be made with no little care and attention, Saeko's appearance as a mousy trophy wife compared to the strong character seen in earlier episodes is incongruous. Though Yudai seems like a world-class scumbag, so God knows what he does to her. But it really feels like "I am the Mother of Daichi" and "Daichi's Resolution" were written in complete ignorance of each other. Unless it's a meta reference to the parlous continuity of Challenge of the GoBots...