Pumper
From GoBots Wiki
Pumper is a friendly member of the Guardians. He is occasionally portrayed as the brother of Dumper.
Fiction
[
edit
]
Fun Publications
[
edit
]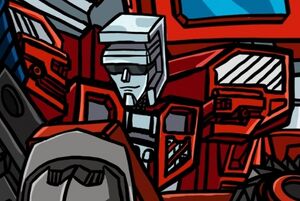 Transformers Timelines

[

edit

]
During the Diaspora, Pumper was dispatched to Level 11 along with an assortment of Guardians and Renegades. Cultural Appropriation

Renegade Rhetoric
[
edit
]
Once Braxis Twice Shy Part 2 Trash and Treachery Bears and Bulls
"Echoes and Fragments"
[
edit
]
In an unstable hybrid universe that incorporated both GoBots and Transformers, Pumper was aboard a Guardian shuttle bound for Earth when Megatron attacked and hijacked the ship. The Decepticons executed him while seizing the ship.
(Pumper only suffered this fate retroactively due to the machinations of Sideways and Gong. When the events actually took place in this hybrid timeline, it was an Autobot crew who were attacked by Renegades.) Echoes and Fragments
Pumper (GoBot, 1983)

Friendly Robot Fire Engine
ID number: 10
Accessories: Ladder, gun
A repackaged import of the Machine Robo Fire Robo toy, Pumper converts from robot to fire truck.
Pumper's Cybertronian-style body in the "Cataclysm universe" is modeled on Combiner Wars Hot Spot with the head design of Combiner Wars Hook.