Paul Kirchner
From GoBots Wiki
Jump to navigation
Jump to search
Paul Kirchner (born January 29, 1952) is an American comics artist and writer with a long and varied body of work, including the bus for Heavy Metal and work for Epic Illustrated. Like many in the industry he was happy to balance such lofty works with material for licensed tie-ins, including Robo Force, Thundercats and GoBots. He also designed toys, including Eagle Force for Mego and Crash Test Dummies, Dino-Riders and Spy-Tech for Tyco. He now mainly freelances in advertising.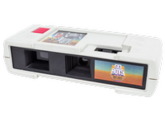 Do you have a real camera just like mom and dad's?
---
Because this page needs images!
If you can help, please visit the article's talk page.