Mrs. Minami
From GoBots Wiki
Jump to navigation
Jump to search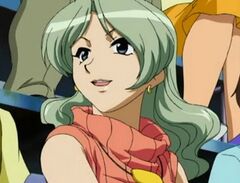 Mrs. Minami is human from Japan, and the mother of Ken Minami. She's on the stupid end of the intelligence spectrum.
Fiction
[
edit
]
Machine Robo Rescue cartoon

[

edit

]
Voice actor: ?
She attended the Machine Robo Rescue open-day and made fast friends with the father of her son's best friend Shō. However she had mistaken the whole thing for an elementary school sports day and was disappointed to find out there wouldn't be a parent-child egg and spoon race. And Taiyoh is Fine! The pair sat together again during the MRR graduation ceremony. Fly, MRR!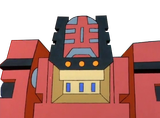 You don't deserve
to know my name!
---
This page is about a character
or concept with no known official name.
If you can change this please visit the article's talk page.
Her apparent ignorance of all things MRR only adds to the mystery of why and how exactly Ken ended up with the organisation.
Like several of the parents, Ken's mother isn't named and - as Saeko Homura proves - she might not even be named Minami. However, this Wiki is using the name in lieu of anything more official for convenience.
However, her never-seen husband is Turkish according to supplemental material, and 'Minami' is a very Japanese-sounding name, suggesting Ken uses his mother's maiden name or that she might not even have married his father.
Her voice really sounds like her son's, so her voice actor may be Megumi Matsumoto.