K-BOY
From GoBots Wiki
Jump to navigation
Jump to search
K-BOYs are robotic communicators used by the Robo Masters of Machine Robo Rescue.
While the K-BOY's primary use is as a communications device they can also convert to vehicle or robot modes, while retaining the same size, and have limited sentience. They can also be used to summon or control larger Machine Robo.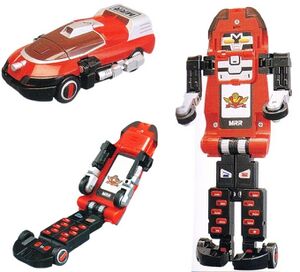 K-BOY was released in Bandai's Machine Robo Rescue toyline in January 2003, and converts from flip-screen mobile phone to sportscar to robot. The toy is in 1:1 scale compared to its' appearance in the cartoon. K-BOY has limited articulation at the shoulders. While K-BOYs were used by all of the MRR teams, only the Red Wings version was issued as a fully-fledged triple-changing toy. The figure retailed at ¥2980.

Like the rest of Machine Robo Rescue, K-BOY was not released outside of Japan.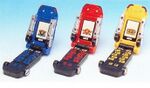 K-BOY Blue Sirens
K-BOY Red Wings
K-BOY Yellow Gears
While only one version of the K-BOY toy was issued by Bandai they also issued a cheaper version under the Yutaka brand, then in use as a budget merchandise label. This version was slightly smaller than the standard version, was much simpler and could only form the phone and car modes. But on the plus side it was at least available in all three of the original teams' colours.