Junichi Mizushima
From GoBots Wiki
Jump to navigation
Jump to search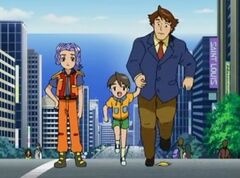 Junichi Mizushima is a human from Japan. He is the father of Jun Mizushima and son of Junchiro Mizushima, and has the Mizushima gene for being a mobile nexus of misfortune and chaos as a result.
Machine Robo Rescue cartoon

[

edit

|

edit source

]
Voice actor: Naoki Bandou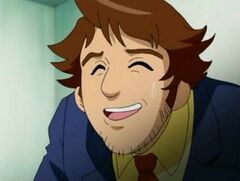 Junichi was a passenger on the first voyage of the Takion high-speed train, in the seat next to Alice Beckham. However, not only was the train hijacked by The Boss and nearly blown up by Jay but Junichi was afflicted by stomach problems and spent the whole journey in the train's toilet, where he was bothered by Alice and Makoto Aikawa in the process. Arise! Siren Galley Robo He later approached Blue Sirens again at a Crime Awareness day he attended along with Jun, with both of them falling on their backsides within seconds of each other. MRR 24 Hours He later joined his son in visiting an amusement park, but his fear of heights meant he couldn't go up the observation tower, with Lin Haruka instead offering to go up as she wanted to ask Jun's opinion on Jay joining Machine Robo Rescue. Unfortunately moments later BL Drill Robo attacked the park, using those in the tower to try drawing out Jay and Stealth Robo. They were eventually rescued by Jay and Taiyoh Ohzora, with Junichi profusely thanking them for saving his son. Jay, Join the MRR!
Junichi later took Jun to meet with his brother and his nephew Ryo on Ikaros 1 as part of a family reunion, eventually being joined by his father Junchiro after the latter was reluctantly brought up by Jay. The Greatest Errand of All Time A further Mizushima gathering on a small volcanic island went no better as Kaiser-G chose the place as the site to start his attack on the Pacific 'ring of fire' volcanoes. The family were initially trapped Activate, Kaiser-G! before being evacuated by Machine Robo Rescue. A Looming Catastrophe! The clan learnt nothing however, and soon after MRR defeated Kaiser-G they found themselves called into action again to rescue a huge submarine in trouble, again requiring saving. Fly, MRR!