Jumbo Jet Robo
From GoBots Wiki
Jump to navigation
Jump to search
Jumbo Jet Robo (ジャンボジェットロボ ) is a Machine Robo.
He is 70.6 metres tall, can fly at Mach 0.89, and carries a Romtron Radar Scanner.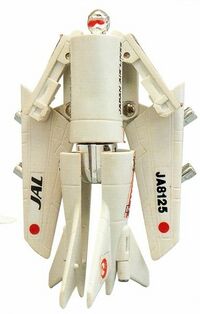 Jumbo Jet Robo (1984)

ID number: MR-B747
Accessories: none
Jumbo Jet Robo was made by Bandai as an exclusive Machine Robo figure for international Japan Air Lines passengers and transforms from robot to Boeing 747 in 5 steps. The figure is of similar size to those in the Machine Robo Series and was packaged in a similarly-styled box, albeit a much deeper one covered with JAL branding, including a photograph of a real JAL 747 on one side. Despite its' rarefied aura, it's not a great figure, with a simple conversion and very little articulation.
Reputedly only 1,000 units were made—though in November 1984 the figure was also offered as a Lucky Draw prize in the "Battle Armor 5 Release Commemorative Quiz Campaign" competition to promote the launch of Battle Armor 5, with another 1,000 available as prizes. Anecdotally, while it is far rarer than any other Machine Robo or GoBots figure examples turn up for auction more often than you'd think if there were only a thousand minus the ravages of time in circulation.

The figure was never released outside of Japan.
Unlike nearly every other Japanese-exclusive toy from the original 1982-1986 Machine Robo line, Jumbo Jet Robo was not given a GoBots equivalent counterpart by Fun Publications in 2015.