Moto ATC
From GoBots Wiki
Jump to navigation
Jump to search
Moto ATC is a toy from the Robo Machine toyline.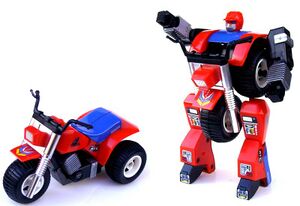 Moto ATC (Winchers, 1985)

Honda ATC
Accessories: large gun, small gun, power base
Honda ATC was released by Bandai in Robo Machine, and converts from robot to Honda 200X ATC in 13 steps. The toy was a repackaging of Moto ATC from Zenmai Kahen Winch Robo. It features a friction motor which can make the ATC mode go forward, or "walk" in robot mode if connected to the power base. Moto ATC is marginally easier to find than the other releases of the mould. Despite his unusual shape the robot has some impressive features, notably excellent arm articulation, though his sliding hips require gentle care to avoid the legs snapping off.
Moto ATC had no faction or even a conventional name. The instructions refer to the toy as being called "Moto ATC", so "Honda ATC" on the box is presumably meant to be a descriptor rather than a name. Which doesn't really matter as everyone calls him Tri-Trak anyway.
Presumably the European branch of Bandai felt packaging the figure as part of the Winchers when it had no winch would have been a bit much. As such the figure was sold in similar packaging to the Winchers, but under the subheading of 'Moto ATC'.