Go-Bots (comic)
From GoBots Wiki
Jump to navigation
Jump to search
This article is about the IDW comic series. For other meanings, see GoBots.

Go-Bots is a comic miniseries published by IDW Publishing that debuted in November 2018. It is a revival of the long-dormant GoBots franchise, and is written, drawn, colored, and lettered by Tom Scioli, creator of American Barbarian and Transformers vs. G.I. Joe.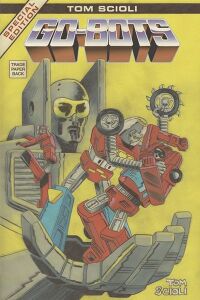 | | | |
| --- | --- | --- |
| " | Go-Bots reimagines the classic characters in a world where their existence on Earth has changed humanity's way of life, acting as chauffeurs, soldiers, and friends for humankind — but are they there to help humanity, or to replace it?[1] | " |
First announced at San Diego Comic-Con 2018, Go-Bots is near-singlehandedly created by Tom Scioli, known for his cosmic, Jack Kirby-inspired reimaginings of other 80s properties in Transformers vs. G.I. Joe, and rendered in his distinctive art style.
The series certainly lived up to the word 'reimagines', as Scioli took a fresh brush to the GoBots property, taking most of his cues from the toyline with a smattering of other influences for a densely packed, almost mythic storyline that flew in the face of anyone expecting a nostalgic re-run of the cartoon or knowing meta. The series drew positive reviews from Comics Bulletin, FanSided, and You Don't READ Comics.
Diamond Sales estimates for the series were orders of 11,208 (158th) for #1[2], 6,052 (217th) for #2[3], 5,216 (289th) for #3[4], 4,612 (242nd) for #4[5] and 4,363 (253rd) for #5[6]. Despite the slump after the first issue most of the series weren't far off IDW's sales for the pre-reboot Transformers comics and thus the series was likely a financial success for the publisher.