Germany
From GoBots Wiki
Jump to navigation
Jump to search
Germany is a country in Europe.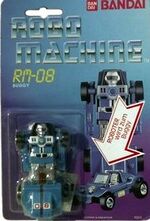 It is not known exactly which figures were released in Germany by Bandai as part of Robo Machine. The first wave of DX Robo Machine appear to have been released belatedly, as some have a sticker proclaiming them to have German instructions inside. This was possibly overstock from other European countries. Then the second series of DX Robo Machines featured German language printed on the paperwork and boxes from the start, while at least one press advert was ran supporting the line. The same was repeated for the European Super GoBots. Carded figures from 1983 were also sold, with a German language sticker placed on the card.
It is unclear if any other figures from the line were issued in Germany.
The 1993 revival featured German as one of the four languages on the packaging text.

Some episodes of Challenge of the GoBots were dubbed and released on VHS by Vestron Video.