Eagle
From GoBots Wiki
Jump to navigation
Jump to search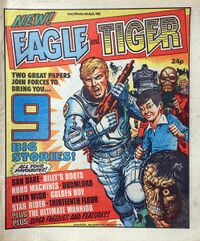 Eagle was a children-oriented weekly British comic, most recently published by Fleetway Publications.
It primarily featured adventure comic strips aimed at young boys, which were usually serialised with 7 or 8 stories appearing per issue. The book's flagship character was the famous Dan Dare and the comic was so influential that the British comics' industry's awards are named the Eagle Awards. As well as Dan Dare it included numerous other strips, often war or history based, and factual articles. The original version began publication in 1950 but by 1969 sales were falling and it was merged into another Fleetway weekly, Lion.
The title was revived in 1982 to give a new home to the revived version of Dan Dare that had been running in 2000AD, following the same multiple-serial format - other strips from the relaunched version included Doomlord and, after absorbing horror comic Scream!, The Thirteenth Floor. The protagonist from the latter, psychotic sentient lift MAX, would assume the role of Eagle's fictional "editor". Fleetway had already began exploring running licenced strips by linking up with Palitoy for Battle Action Force and in 1984 agreed a deal with Bandai to produce a Robo Machine strip, named The Robo Machines. This ran between 10 November, 1984 and 29 July, 1985 - with a one week break when another Fleetway weekly, Tiger, was folded into Eagle. The three-page strip was initially black-and-white - only Dan Dare on the covers received full colour - and, after the break, added red to the mix for some reason.
The reasons for the ending of the strip are unknown. Eagle continued in publication until 1991.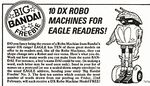 Before, during and after Eagle hosted the Robo Machines Bandai occasionally supplied toys for competitions in the pages of the comic.
After the end of the strip there was one more appearance by a "Robo Machine" - Cy-Kill's model, with his shoulder wheels removed, was recycled as a Service Robot by artist Carlos Cruz González in the Dan Dare strip from #203-204, some six months after the Robo Machines strip had concluded.