Diego Jourdan Pereira
From GoBots Wiki
Jump to navigation
Jump to search
Diego Jourdan Pereira (born 21 October 1977 in Montevideo, Uruguay), sometimes credited as Diego Jourdan, is a comics artist. His work includes Transformers Animated]], numerous titles in Chile (where he was been based since 1991) and G.I. Joe Resolute.
Despite being a normal artist he was enlisted by IDW to produce a variant cover for the Tom Scioli Go-Bots mini-series, which was used as a Local Comic Book Day Special for the first issue.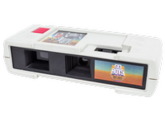 Do you have a real camera just like mom and dad's?
---
Because this page needs images!
If you can help, please visit the article's talk page.