Dash Shaw
From GoBots Wiki
Jump to navigation
Jump to search
Dash Shaw is an American comics artist and writer, with a body of work that includes Love Eats Brains, GardenHead, The Mother's Mouth and other stuff you're nowhere near cool enough to have read.
As trendy groovy indy comic artist he was enlisted by IDW to produce a set of variant covers for the Tom Scioli Go-Bots mini-series. They're not bad, though.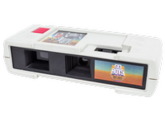 Do you have a real camera just like mom and dad's?
---
Because this page needs images!
If you can help, please visit the article's talk page.