Cutie Kumamoto
From GoBots Wiki
Jump to navigation
Jump to search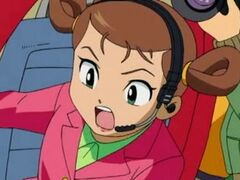 Cutie Kumamoto (キューティー熊本) is a human from Japan, as either a news reporter and occasional weather girl or a weather girl who gets really carried away.
It is hard to choose which out of her hair and her name is the most ridiculous.
Machine Robo Rescue cartoon

[

edit

|

edit source

]
Voice actor: Megumi Matsumoto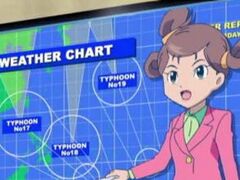 Cutie was onboard a helicopter with her cameraman when a thief robbed the Banana Bank. They followed the resulting police chase, reporting on it as it triggered a multiple vehicle accident. The Machine Robo Rescue cadets were watching it on TV, with Blue Sirens being sent in to deal with the carnage. Straight Ahead to the Police Spirit! She later reported on the numerous good deeds the team had done while searching for a missing cat, meaning Chief Bitou was too delighted at the positive publicity to discipline them all for disobeying orders. Emergency! Enter Battalion One of her broadcasts told Shō Ashikawa of freak icebergs appearing near Ōtsuka trapping, leading to him setting off to rescue the creature with Submarine Robo and the Aqua Robo. Do You Like Hangars? Cutie later gave a report on the training methods MRR had learnt from Takezo Okano. Proud Fire Brigade! Cutie later gave a weather report on the trio of typhoons moving strangely near Japan. The Strongest Combination! Machine Commander Robo V She also reported on the devastation caused by Kaiser-G meddling with the Pacific ring of volcanos and MRR's rescue attempts; despite capturing footage of the Disasters leader in action Cutie claimed no-one knew what had caused the catastrophes. A Looming Catastrophe! She was in the air reporting when Kaiser-G reached Tokyo, and the monster bore down on her helicopter until he was distracted by Gyro Robo. All Hands on Deck, Save the Planet!