Collect the GoBots World of Adventure!
From GoBots Wiki
Jump to navigation
Jump to search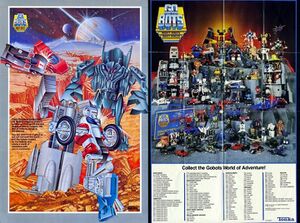 Collect the GoBots World of Adventure! was a GoBots catalogue issued by Tonka in 1985 and 1986.
The catalogue/checklist is notable as the only known bona-fide GoBots catalogue intended for the public; Tonka produced dealer catalogues (intended for retailers only) featuring the line, while related franchises such as Machine Robo, Robo Machine and Machine Men also made their own. However, Tonka preferred to use cross-sells on boxes for much of the line's life, presumably as part of the general cheap-and-cheerful GoBots ethos that eschewed biographies, printed instructions and so forth. However larger toys from the final series seem to have reversed this trend to some extent, likely in belated response to the success of the more luxurious Transformers - biographies were included on boxes, instructions moved from packaging to paper manuals and a pack-in check list was included. This was on the reverse of a folded poster showing a battle scene involving Leader-1, Cy-Kill, Vamp, Turbo and Crasher.
Content
[
edit
]
The checklist part featured a huge diorama showing no less than 117 GoBots toys, basically what was available at the time. Well, almost - as the picture was taken in advance several toys would be changed before reaching retail.
The catalogue was included with third series Super GoBots, Secret Riders, Dread Launchers and the Space Hawk, folded in a plastic bag with a subscription form for the GoBots Magazine. It would likely have been included in with the GoBotron Fortress if that set had been released.
It doesn't really have a title, 'Collect the GoBots World of Adventure!' comes from the blurb on the back.