Challenge of the GoBots (video game)
From GoBots Wiki
Jump to navigation
Jump to search
Challenge of the GoBots is a video game developed by Tony Crowther and Ross Goodley, and published by Reaktor for the Commodore 64, Amstrad CPC, and ZX Spectrum home computers. It sold for £9.99 as a cassette or £12.99 on disc in Europe. Due to the loading screen it is often known as Challenge of the GoBots on the Moebius Strip, though the packaging only refers to it as Challenge of the GoBots.
The game had instructions in English, French, German and Dutch.
Doctor Braxis has built an artificial planet called Moebius on the far side of Saturn as a trap so he and the Renegades can destroy the Guardians. To lure them there they kidnap Turbo, Matt, A.J. and Nick. However, Turbo is able to get a message to Leader-1 and Scooter before he is immobilised by Braxis' Anti-Move Ray.
After they arrive on Moebius, Scooter is able to produce clones of himself for Leader-1 to use as bombs and destroy the six bases on the artificial planet. Leader-1 is also able to collect rocks and use his built-in lasers to fight off the Renegades Gog (sic), Cop-Tur and Crasher, who try to interfere with his mission. After Leader-1 clears each base he moves onto the next, with Braxis summoning a larger number of Renegades to defend each progressive base. Destroying all six bases released the captives and destroyed Moebius.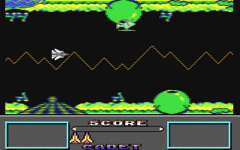 The game is a horizontal-scrolling 1-player arcade shoot-em-up. The player has the option to alter the gravity of Moebius and the speed of the Renegades, effectively changing the difficulty.

Gaming Magazine Computer Gamer reviewed Challenge of the GoBots in their 1 April, 1987 edition, giving the game an 82% rating and calling it "one of the best shoot-'em-ups of all time", positively comparing it to Defender. [1] Conversely, when fellow gaming magazine Zzap!64Z reviewed the game in its' August 1987 issue they gave it 44% overall, generally praising the game's presentation and slating its' gameplay, which was regarded as overly difficult even on the easiest settings and derivative of Sheep in Space.[2]
Both versions included an electronic story cassette previewing the game, while early releases included a bonus tape of Ben Daglish's soundtrack for the game and a poster.