Night Fright
From GoBots Wiki
Jump to navigation
Jump to search
Night Fright is a Renegade.
He is sometimes known as Blades.
Fiction
[
edit
]
Challenge of the GoBots cartoon

[

edit

]
The Renegades Tork and Blades used the Astro Beam to join Cy-Kill on Earth. He needed reinforcements to help him claim the power of the alien known as Alaric. Despite their firepower, however, Tork and Blades were virtually useless in the fight that followed. The Gift
Fun Publications
[
edit
]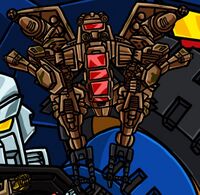 Transformers Timelines

[

edit

]
During the Diaspora, Blades was dispatched to Level 44 along with an assortment of Renegades and the RoGuns. Cultural Appropriation

Renegade Rhetoric
[
edit
]
Blades, Pincher, and Twin Spin launched an attack on UNECOM's Mercury facility, only to be driven off by Doctor Braxis and his new Destabilizer Cannons. Once Braxis Twice Shy Part 1
When Zero and the Master Renegade teamed up, Cy-Kill couldn't have anyone else ruling the world but him. He sent Blades and Psycho to confront them during a raid on UNECOM, but Turbo and the Guardians showed up, firing upon both groups of villains. Trash and Treachery
Doctor Faraji, creator of the Dynamic Asymmetrical Wavelength Nullifier, was attending the SciFi Con when the Renegades attempted to capture him. Blades attended in cosplay like the others, dressed as Inuyasha. Darkest Before the Dawn
Cy-Kill commented on his soldier Blades while broadcasting on Axiom Nexus. His gunship mode would be a perfect partner for Cy-Kill's new Renegade recruit, Warpath. Cy-Kill mused that when he one day drew the Monster GoBot Bladez to his side, one of the two might have to change their name... Renegade Rhetoric 2015/10/16
"Echoes and Fragments"
[
edit
]
For their own amusement, Sideways and Gong played with reality so that elements of a Gargent stream blended in and out of a Primax stream. In this universe, Blades was a Renegade who attacked a Command Center on its way to Autobot City on Earth. Echoes and Fragments
Night Fright (Super GoBots, 1986)

Renegade Robot Copter
ID Number: 038
Accessories: Five-bladed rotor
Designed by Bandai exclusively for the Super GoBots line, Night Fright converts from robot to MI-24 Hind helicopter gunship.