Banpresto
From GoBots Wiki
Jump to navigation
Jump to search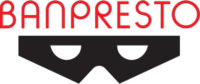 Banpresto was a Japanese game developer and toy producer.
Founded in 1977 as Hoei Sangyo, Co. Ltd. before becoming Coreland Technology Co., Ltd. in 1982. In 1989 Bandai bought part of the company, and renamed it Banpresto. The company was charged with exploiting merchandising opportunities such as gashapon and other prize toys, while also handling video games based on Bandai properties.
The most notable of these was Super Robot Wars, a cross-franchise property combining numerous famous Bandai-owned robots from past and present. Four of these featured characters from Machine Robo: Revenge of Cronos. By 2008 the company was fully owned by Bandai and was folded into Bandai Namco Holdings, and in 2019 the name was discontinued altogether, with Banpresto becoming Bandai Spirits.