BL Bulldozer Robo
From GoBots Wiki
Jump to navigation
Jump to search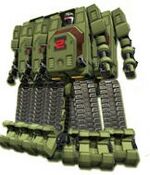 BL Bulldozer Robo are Machine Robo Supporter Robo that are part of the Disasters.
They combine with BL Drill Robo to form Hyper BL Drill Robo, and are copies of Bulldozer Robo.
BL Bulldozer Robo was released in Bandai's Machine Robo Rescue toyline in 2003, with four of them included in the BL Drill Robo set. BL Bulldozer Robo can convert from robot to ambulance mode, and also form either an arm or a leg for any Hyper Mode. The only difference between the four figures is the number tampographed on each one's chest. BL Bulldozer Robo was a recolour of Bulldozer Robo. The figure was only available as part of the BL Drill Robo set, which retailed at ¥2500.

Like the rest of Machine Robo Rescue, BL Bulldozer Robo was not released outside of Japan.